Farmers impact your life everyday. From the salad in our lunches, to movie night popcorn and even the designer jeans you are wearing today, wherever your day takes you, and however it ends, chances are it began with a farmer.
Not too long ago, everyone knew exactly where their food came from. If you ask that question today, you will most likely hear Publix, Wholefoods, etc. While I am not a stranger to either of those stores, I try to buy local produce, meats and dairy whenever possible. Not only do we know where our food comes from but it gives back to the community. Supporting your local farms and farmers should be a high priority for everyone.
I want to introduce you to a family you may have seen on a
America's Farmers
commercial during this years Super Bowl - the P
istorius family
.
Since 1884, this five-generation farming family has grown corn, soy and vegetables in Blue Mound, Illinois.
On the farm you will find corn, soybeans and even organic popcorn. You can take a virtual tour of their farm by clicking here.
Pete Pistorius along with his father, Tim, oversee the day-to-day operations while Pete's wife Megan, a former second grade teacher, runs the household.
The two have 4 adorable children, Emma, Isabel, Olivia and William. The family lives in a house built in 1898 by Pete's great-great-grandfather, and they recently remodeled it while keeping all of the original doors and woodwork, and the new construction has doors and woodwork built to match.
Family Motto "We treat every field as if it were the only field we farm, doing our best to maximize profitability while maintaining excellent stewardship of the land." -- Pete Pistorius
Some interesting numbers about Farmers:
In 1960, a farm fed 26 people. Today that same farm would feed 155 people.
Jobs supported by US Farmers: 26 million. The population of Australia: 24 million.
US will produce nearly 13 million bales of cotton this year - that's enough for 3 billion pairs of jeans.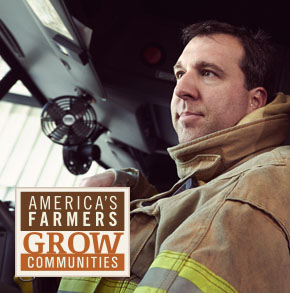 This post was created in partnership with America's Farmers. All opinions are my own.