I have a lot of good friends - yet only a small handful know my true shoe addiction. They see me as the girl who wears flip flops and sparkle ballet flats. Yet, a few years back, I lived in a different world. One where I bought Christian Louboutins at a whim, just because. Gucci heels were my casual shoe. Cole Haan? Yeah - that was my work shoe.
Present day I laugh at this and wish I still had that girls bank account. I am a designer shoe hoarder. I still have all of these shoes, stuffed in their dust bags, in their boxes.
I always imagined myself wearing a pair of Christian Louboutin's on my day wedding - photos are more important to me than comfort. I always dreamed of being that bride with the red soled shoes. That may not happen, for more reasons than monetary. I am the same height as my fiance.....meaning Christians signature 3"+ heels is not an option. Bye bye beauties........
I do not want to be taller that Gabe in our photos. I am giving up the red sole beauties........ along with my second choice, the
Badgley Mischka
"something blue shoes"
So now we are talking flats........
Unless Christian Louboutin comes out with an amazing bridal line for tall brides to be, my dreams of having the red sole photos are quickly coming to an end. The ones above do not satisfy this shoe girl.
I also must state that I hate white shoes....I don't care the heel or style, I loathe white shoes of all kind. I also do not want to look like Dorothy with sparkly red shoes so I am weary of colored flats. Since I got my gown at such a discounted price, I have a higher than normal shoe budget. See, the old me is living somewhere deep inside! I also want a shoe I can wear again.
If I go for a black lace bridesmaid dress, I will most likely get these
Tory Burch Satin and Lace Chelsea
flats. It fits my wedding style and is something I would so wear again!
Tory Burch Chelsea Flats
and they would be my something blue.
Vera Wang
This is an older style but I am stalking my Nordstrom Rack on a weekly basis, just in case.
Jimmy Choo - I think I like the label better than the shoe
Kate Spade Cayman Flats
......not a fan at all........
Tory Burch Metalic Azalea Ballet Fla
t Other than the fact the bow is too big, I like these. It also may be my obsession with everything Tory Burch.
For that something blue, same shoe as above but in a color that is traditional in weddings.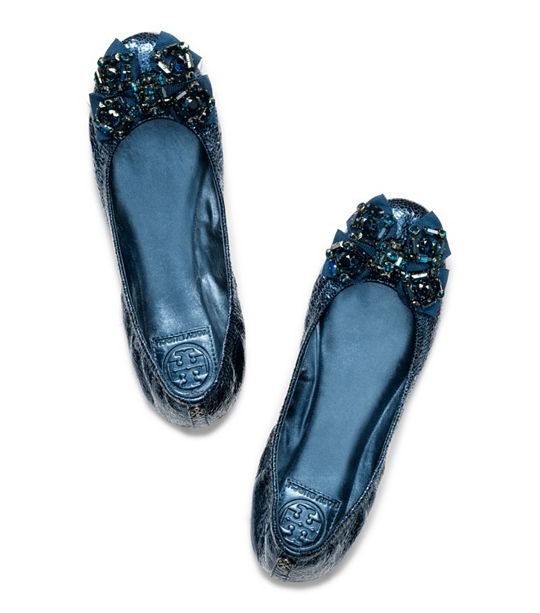 Do I wear a colored flat or go with a nude color?